Event Description
Pedal4Cancer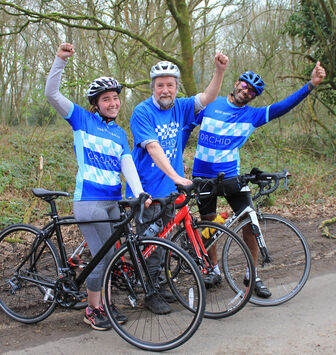 Join 100s of cyclists and our fight against male cancer by taking part in this family friendly cycle ride. The start point is at Lee Valley VeloPark will create the perfect pre-cycle buzz you'll need. After a lap of the road circuit you will head north-east to open Hertfordshire and Essex countryside. The route is all on road and is fully sign-posted. Pedal4Cancer is designed as a fundraising cycle ride, it is not a sportive and it is not timed.
There will be 2 break points en route, where you'll find snacks, lunch, toilets, water, as well as medics and mechanics.
You will skirt the historical city of Cambridge and end at the cycle village. Here you'll be cheered in and be greeted by your well deserved medal and a glass of something bubbly!
16th September 2018 - 7am till 6pm
London-Cambridge
Minimum sponsorship £175
---
This event closes in:
on 13/09/2018 at 11:59pm
(*subject to change without warning)
Event Terms
Please enter me for the above event. I accept that the organiser will not be liable for any loss, damage, action, claim, cost or expenses which may arise in the consequence of my participation in or attendance to this event. I declare that I will not attend unless I am in good health on the day of the event and accept that I attend at my own risk. In the unlikely event of abandonment or cancellation, all or part of my entry fee may be retained for the management and administration of the event. No refunds or transfers allowed under any circumstances.

By accepting a place on Pedal4Cancer, I agree to the following Terms and Conditions

1) I will raise at least the minimum sponsorship of £175.
2) I confirm that should I be unable to take part in the event, I will inform the charity at the earliest opportunity, should this be after the registration closing date then I acknowledge that I am liable for the minimum sponsorship.
3) I will participate solely for Orchid Male Cancer and that all funds raised will go directly to the charity, unless agreed with Orchid.
4) I am happy to assist with any media enquiries and photography unless I have notified Orchid.
Event Options
**NOTE: Prices shown below include booking fees. Nothing extra will be added at the checkout.**
---
Further information from the Organiser
The Event Organiser will email further race information prior to the event. Please check your junk/spam email folders if you don't receive it and note that the Organiser may only send information once entries close (ie. a couple of days prior to the race itself). If in any doubt, please contact the Event Organiser using the details displayed on the event entry page.
Seen something offensive? Please report it here.