** PLEASE SEND YOUR PROOF OF CHALLENGE COMPLETION TO INFO@NICE-WORK.ORG.UK **
Event Description
** PLEASE SEND YOUR PROOF OF CHALLENGE COMPLETION TO INFO@NICE-WORK.ORG.UK **

Following from the success of the Spitfire 10K we are now launching our Spitfire 10K Virtual Race. For those of you who missed out on the recent Spitfire 10K then this is for you!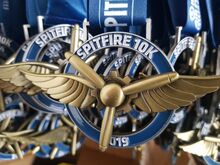 Taking part in the virtual race means you have the opportunity to complete the 10K in your own time and wherever and whenever you want – on the road, in the pool, at the gym, or you can even walk it!

Once you have completed your 10K, all you will need to do is send us your route. This can be done by any of the following: Strava file, Garmin screenshot, screenshot of your watch – anything which shows us that you have done your distance.

We will then send you one of the heavily sought after 2019 Spitfire 10K medals!

The Spitfire 10K Virtual Race will run until Friday 27 September. Please ensure that copies of your route are received by Nice Work, the Race Management Company by Sunday 29 September.

All those who enter the Spitfire 10K Virtual Race will receive advance notification of 2020 race entry details.

Entry Fee:
Standard Entry (UK) - £15.00 + £1.90 booking fee
Standard Entry (Europe) - £17.50 + £1.90 booking fee
Standard Entry (Rest of the world) - £19.50 + £1.90 booking fee
If you have a question related to the Virtual Race please contact Nice Work by emailing info@nice-work.org.uk
---
This event closes in:
on 30/11/2019 at 11:59pm
(*subject to change without warning)
Event Terms
This event is owned by the RAF Museum, when you confirm your purchase, you are accepting the following terms and conditions:
o I declare I am an Amateur as defined by UKA & agree to abide by their rules. I take part at my own risk and will not hold the RAF Museum responsible for any injury, sickness or loss as a result of my taking part.
o I also declare that I am medically fit at the date of this application and that I will not participate in the event unless I am medically fit to do so.
o I agree to the RAF Museum having the right to alter or amend any of the above information
o You agree that we may publish your personal information as part of the results of the Event and may pass such information to the governing body or any affiliated organisation for the purpose of insurance, licences or for publishing results either for the event alone or combined with or compared to other events. Results may include - but not be limited to - name, any club affiliation, race times and age category.
o No entries may be resold.
o Unfortunately, we cannot issue any refunds for cancellations.
o The Spitfire 10K is a race organised by the RAF Museum as a registered charity. We therefore ask that all runners wishing to raise funds in conjunction with this event only do so for the RAF Museum, we thank you for respecting this.
o When purchasing entry I understand that the RAF Museum and Nice Work will send communications via email and post that are relevant to the race.

Event Options
**NOTE: Prices shown below include booking fees. Nothing extra will be added at the checkout.**
---
Further information from the Organiser
The Event Organiser will email further information prior to the event. Please check your junk/spam email folders if you don't receive it and note that the Organiser may only send information once entries close (ie. a couple of days prior to the event itself). If in any doubt, please contact the Event Organiser using the details displayed on the event entry page.
Event Organiser
Name: Martin Burke
Seen something offensive? Please report it here.