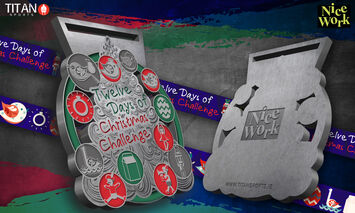 And a Partridge in a pear tree!
We know that it can sometimes be hard to stay active and motivated over the Christmas period - the temptations can be overwhelming! So we're here to help you with our Twelve Days of Christmas Virtual Challenge!
Twelvetide. You can either start your 12 day challenge on Christmas Day itself on December 25th and finish on January 5th , or, if you prefer, why not use the challenge to get ready for Christmas and start on December 14th and finish on Christmas Day. Whichever challenge you choose, we challenge you to get active on each of twelve days.
So, why not get a head start on your New Year's fitness resolutions early and work off those Christmas puddings – and pick up a fantastic bespoke medal for your collection?
We are challenging you to stay active every day for the twelve days of Christmas in whichever way you choose! Run, walk, swim, row, skip or cycle every day for twelve days.
Remember, this is a virtual challenge and can be completed outside or inside - at a gym or at home on your treadmill, rower or exercise bike.
How do I take part?

It's easy to take part, once you have booked we will send you a step-by-step guide.

Simply enter the virtual event and we'll send you a welcome email with a logbook to track your activities and details of how you submit your results. It couldn't be easier!
And this is what your true love gave to you on the final day...
Twelve drummers drumming
Eleven pipers piping
Ten lords a-leaping
Nine ladies dancing
Eight maids a-milking
Seven swans a-swimming
Six geese a-laying
Five gold rings
Four colly birds
Three French hens
Two turtle doves
...and a partridge in a pear tree!