Event Description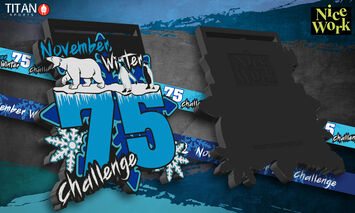 Helping to provide some running motivation and keeping you race fit during the Winter months!
As the nights begin to draw in and the weather turns colder, it is often hard to gather the motivation to get out for your run during the Winter Months. We are here for you! Why not join Nice Work for the NEW November Winter 75 Virtual Challenge – and pick up this seasonal medal for your collection.

Taking place throughout November, the November Winter 75 Challenge is a virtual event which means you can run, walk or cycle 75 Miles over the 4 weeks. Run, walk or cycle outdoors or complete the challenge indoors on a treadmill or bike, but whatever you do, don't stop at 75 miles!

Spot prizes will be awarded for those who walk, run or cycle the furthest.

Involve the whole family!

This is a family-friendly event. For our younger runners and families who wish to run or walk together, there is the option of completing 75k with your child or children, over the month. Enter as a family (there is a discounted price for family groups) and, in addition to a bespoke medal each.

It's easy to take part. Simply enter the Challenge and we'll send you a logbook to record your distance. Then return the completed logbook to us by email at the end of the Challenge and we'll send you your exclusive November 75 Challenge bespoke medal.

25% of your entry fee will be donated to Charity – and we'd like your help to decide which charity. When you enter the Challenge let us know your favourite charity or good cause at the time of booking and we'll draw one entrant at random - and their selected charity will receive the donation.

Race dates: 1st – 30th November

The event will run throughout November until the end of the month and you can complete the event in as many activities as you wish.

If you enter after the 1st November activities can be back dated to the beginning of the month.

What is a virtual challenge?

This is a virtual challenge, which means you can take part anywhere in the world, in your own time and at your own pace. This also includes treadmill runs/walks.

This is a family- friendly event, for our younger runners and those new to running, Enter as a family (there is a discounted price for family groups) and, in addition to a bespoke medal each, there will be spot prizes awarded to families!

How do I take part?

It's easy to take part, once you have booked we will send you a step-by-step guide.

Simply enter the virtual event and we'll send you a welcome email with details of how you submit your results. Throughout the challenge, capture your run / walk on your favourite tracking device and email it to us along with your epic finishers selfie and we will feature you in the selfie gallery!
Let's help motivate each other as we head into Winter and good luck with your challenge!


---
Event Terms
Please enter me for this virtual challenge. I accept that the organiser will not be liable for any loss, damage, action, claim, cost or expenses which may arise in the consequence of my participation. I declare that I will not take part unless I am in good health and accept that I do so at my own risk. Once my entry is accepted, I understand that my entry fee is NOT REFUNDABLE under any circumstances - even if I do not or cannot complete the challenge. Throughout the challenge I will observe the current government guidelines in force with regards to social distancing and time restrictions on exercising outside of the home.
Event Options
**NOTE: Prices shown below include booking fees. Nothing extra will be added at the checkout.**
---
Further information from the Organiser
The Event Organiser will email further information prior to the event. Please check your junk/spam email folders if you don't receive it and note that the Organiser may only send information once entries close (ie. a couple of days prior to the event itself). If in any doubt, please contact the Event Organiser using the details displayed on the event entry page.
Event Organiser
Name: Martin Burke
Seen something offensive? Please report it here.