Take part in the Hurricane 80K Challenge to mark 80 years since the Battle of Britain took place in our skies!
To commemorate this significant anniversary, we are challenging you to walk, run, jog, swim or bike 80K in 80 days.
The Challenge was due to start on the 21 April, but given our current situation we have decided to start it early. Exercise is important to us all and we hope the challenge can provide you with some inspiration during these difficult times.
We are also pleased that for our Armed Forces Family we are offering you the chance to take part for just £10. This offer is for serving personnel and their families.
You still have until the 10 July (the start of the Battle of Britain) to complete it. Our challenge is virtual which means you too can participate and complete the challenge from anywhere in the world. After you have completed the 80K then you just submit your log and we will post you an exclusive Hurricane 80K Challenge medal.
The Hurricane, often under-valued in importance in comparison to the Spitfire, played an influential role in protecting Britain from the Luftwaffe during the summer of 1940. We thought we would give this amazing aircraft the spotlight it deserves.
This challenge can also be completed anywhere in the world! During the Second World War RAF Fighter Command had pilots sign up from all over the Commonwealth and occupied Europe. They came from Poland, New Zealand, Australia, Canada, South Africa and France to fly and fight.
So join us, wherever you live, and challenge yourself to complete 80K in 80 days! For more information including ideas of how to complete the challenge and an FAQ document please head to the RAF Museum website.
Hurricane 80K T-shirt
You can purchase a souvenir t-shirt to be delivered with your medal following the end of the challenge. T-shirts are £12.00 per person. Sizes range from Small to XX Large, choose your size when entering the challenge.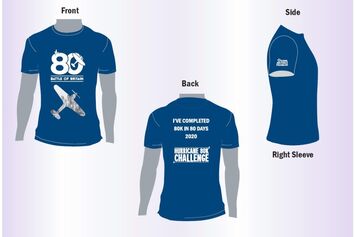 Fundraise for the RAF Museum and receive a free t-shirt!
All proceeds will go towards the RAF Museum (registered charity number 244708) to enable us to continue telling the story of the RAF and the thousands of service women and men who served in it.
You can further help us honour those who defended our skies during the Battle of Britain by fundraising for the RAF Museum. Pledge to raise £80 for the 80th Anniversary and not only will you receive a free Hurricane Challenge t-shirt, but you will also be helping commemorate 'The Few' and help keep their memory alive.
Your support really matters, now even more so. As a charity, donations from our visitors allow the Museum to continue telling the RAF Story, in these difficult times, we need your continued support more than ever.
All you need to do is choose the ticket below with (inc. free t-shirt with £80 raised in sponsorship) following the ticket name.
Entry**
Standard Entry (UK): £20.00
Standard Entry (UK) with a souvenir t-shirt: £32.00
Armed Forces Entry: £10.00
Armed Forces Entry with a souvenir t-shirt: £22.00
For those taking part in the challenge in Europe an extra £2.50 will apply for postage, those taking part outside of Europe and UK and extra £4.50 will apply to entry.
All proceeds will go towards the RAF Museum to enable us to continue telling the story of the RAF and the thousands of service men and women who served in it.
**entry fees are subject to a booking fee
Useful information
You will have until Friday 17 July to submit your distance log, and we will send all medals out in the following weeks.
Once you have signed up to the Hurricane 80K Challenge, all you need to do is download the distance log so you can keep track of your kilometres.
If you have a question related to the challenge please contact the Museum Public Events team by emailing us at virtualrace@rafmuseum.org.
There is no minimum age for this challenge – but we do recommend under 16's are accompanied by an adult!
All medals will be sent to the one address, if you would like them sent to different addresses, please complete a separate booking online for each participant.
Share with us!
We would love to hear from you during the challenge! Tag us in your pictures on Twitter and Instagram at #Hurricane80KChallenge