Half term is upon us!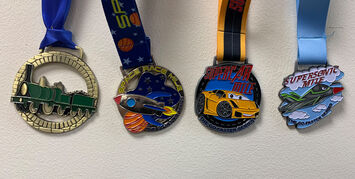 We are relaunching our Go-Faster one mile series to help keep our younger runners active over the school break!
In case you didn't see this cool series of races over the last few months, it's a fantastic opportunity to get your hands on one (or all four) of our medals in the series!
We now have the option for you to select medal choice – a train, space rocket, supercar or a supersonic jet! OR all four!
These events are virtual – which means this half term run your one mile anywhere you like, at any time of day using an outdoor route of your choice or indoors on a treadmill. All you need to do is record your run with an activity tracking app, then submit your time and get yourself a shiny medal! If you fancy a challenge, why not run four separate miles for all four medals!
For those who do not have a tracking device just yet, we will accept a photo of your timer if you are unable to use an activity tracking app.
How to complete a Virtual Event
Participating in a virtual event means you can complete the distance at any time within the event time frame in a location of your choice. Once you have booked your place, we will send you an email with a step by step guide, it couldn't be easier!

Lets Go Faster Together!
#TeamNiceWork