Event Description
The VIRUTUAL Calder Vale 4 Mile Supper Run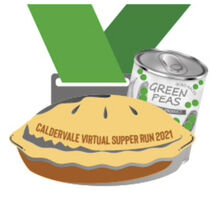 Due to COVID, the physical race has had to be cancelled for 2021 so the event is now being held virtually.
All finishers that email proof of their run to RoadRaces@outlook.com before 31 August 2021 will receive a Pie and Peas medal.
---
Event Terms
- I declare I am an amateur as defined by UK Athletics Laws and will abide by the laws and rules of UK Athletics. I accept that the organiser will not be liable for any loss, damage, action, claim, cost or expenses which may arise in the consequence of my participation in this race. I declare that I will not compete unless I am in good health on the day of the race and that in any event I will compete at my own risk. In the unlikely event of abandonment or cancellation, all or part of my entry fee may be retained for the management and administration of the event.
Further information from the Organiser
The Event Organiser will email further information prior to the event. Please check your junk/spam email folders if you don't receive it and note that the Organiser may only send information once entries close (ie. a couple of days prior to the event itself). If in any doubt, please contact the Event Organiser using the details displayed on the event entry page.
Event Organiser
Name: Steve Ashcroft
Seen something offensive? Please report it here.