Lakeland Slateman 3 Peaks Duathlon 2019
The 'Lakeland Slateman' Event is back after a 20-year break! The first successful Lakeland Slateman triathlons took place from 1993 to 1995. This was followed by the very popular 'Lakeland Slateman Three Peaks' team run 1997 and 1998

20 years on.....If you have still got what it takes then read on...

Lakeland Slate is tough and hard wearing and has definitely stood the test of time - so it is appropriate therefore that this event should take its name from this timeless mineral and all competitors will have to endure this gruelling 100km course over England's three highest mountain peaks in just one a day.
The Challenge
Starting from 7.00am from Keswick, Cumbria your goal is, in team pairs, to traverse England's three highest peaks:
Helvellyn - Sca Fell Pike - Skiddaw
58KM Bike - 42KM Run
100km combined Mountain Bike and Fell Running Challenge in team pairs throughout
Briefly, the course entails:

Bike 9k - Run 10k - Bike 24k - Run 22k- Bike 18k - Run 10k - Bike 6k
Course Map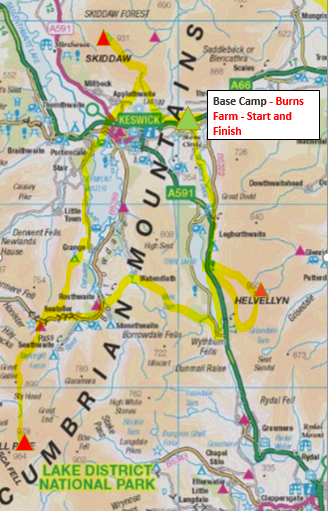 This is a Team Event
The Lakeland Slateman Three Peaks Duathlon is a team event. You must start and finish as at least a two or three-man, woman or mixed team and be together at all times. The concept is to embrace:
Team camaraderie
Team support
Team safety
The team may comprise two or three competitors if you choose.
You will both provide support for each other - Encourage one and other along the way and provide support when needed. Your individual or combined skills can include navigation, map reading, cycling and running and mountain skills.
Your race entry includes
A well organized and marshalled 100km cycle and run course throughout
Pre-Race complementary pasta meal Friday evening
Drinks and food at all three change-over points
Drinks and food at the finish
Post-Race complimentary presentation buffet
Event 'T' Shirt,
Event mementos
Event goody bag
Prizes for placed teams in various categories
Showers and changing for all competitors
Camp site area for tent, caravan or motorhome for two nights (Additional Booking Fees required)
Cycle back-up support on all road sections
Finally! - A fantastic and memorable experience!
Camp Site Facilities
Burns Farm is a good quality campsite with toilets, showers and other facilities available. Go to: www.burns-farm.co.uk for more information
Tents: Pitches will be in the event venue field which is close to toilets and showers. These can be booked for an additional £10 per person per night along with your entry fee. The fee includes either your own tent or to share with your team mate.
Motorhome/Caravans: Pitches are hard standing with electric hook-up, water and waste disposal. These must be booked and paid direct with Burns Farm Campsite. http://www.slateman.uk
So what are you waiting for! Are you up for this challenge? Then go for it!
Event Website
The official Lakeland Slateman 3 Peaks Duathlon website can be found at www.slateman.uk - Here you will find more information about the race and a start list as well as final results.
Facebook
The event will also be on Facebook so competitors can share information about the event.