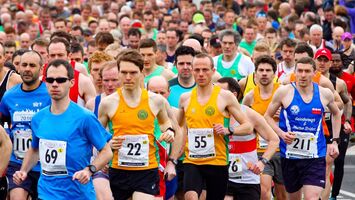 Retford Half Marathon and Family Fun Run
8th March 2020
Half Marathon Start 10.00am | Fun Run Start 10.15am
Hosted by Retford Athletic and Running Club
VENUE
RETFORD OAKS ACADEMY,
BABWORTH ROAD,
RETFORD,
Nottinghamshire,
DN22 7NJ

Retford Half Marathon and Family Fun Run - 8th March 2020 - Race Day Instructions
Thank you for entering the 2020 Retford Half Marathon and Family Fun Run which takes place on Sunday 8th March (Half Marathon start time 10.00am / Fun Run start time 10.15am)
Please find below links to the RACE DAY INSTRUCTIONS. Please read these instructions carefully BEFORE the day, particularly the information on race numbers, timings, car parking and event safety. Please note that we are unable to defer or transfer places for runners who are injured or are unable to attend but will have some 'on the day' places available in the half marathon and fun run.

If you have any questions that are not covered in the race day information please email the race organisers at least 72 hours before the event.
Please do keep updated through the organisers Facebook page (
www.facebook.com/retfordhalf
) on final preparations and any urgent information the organisers need to update runners on.
Please also note that our friends from the Lincolnshire Runner will be attending the event and will have some great offers for runners and supporters. We will also have race massage available before and after the race, and refreshments for runners and supporters.
Thank you to you for supporting the event and to all our event partners and sponsors including our premier sponsors Jones & Co Solicitors and Brown and Co.
We look forward to welcoming you to Retford and hope you have a safe and enjoyable day.
Retford Half Marathon and Fun Run Organising Team
Retford Athletic and Running Club
EVENT SUMMARY
Held under UK Athletics Rules, the Retford Half Marathon attracts approximately 1200 entrants each year and is a key fixture for seasoned runners from across Yorkshire, Nottinghamshire and Lincolnshire, as well as for others who are taking part in their first half-marathon. Many runners also use it as a warm up to the London Marathon held in April.
The 2020 event, will once again start and finish at the Retford Oaks Academy on Babworth Road in Retford which offers excellent facilities for runners and their supporters. Following the success of the 2019 event which sold out in January, for the 2020 events we have increased the race limit to 1,400. The event will once again see "chip timing" used.
The Family fun run (The Dave Maiden Family Fun Run), is approximately 2km. There is no minimum age but under 10's must be accompanied by an adult. Prizes for the first three home (under 7 years of age) and medals for all entrants. Entry fee for the fun run is £3. Entrants must complete an online or hard copy entry form to take part.
EVENT FACILITIES
Indoor changing facilities, showers, toilets, parking, refreshments.
START TIME / FIELD - HALF MARATHON

Half Marathon: Start 10.00am
Field: 1400 Max Entrants (1300 entrants last year) | Age Limit: 17 | Entry On day: Yes (if race cap not reached)
ENTRY FEES

Affiliated Runner Entry Fee: £20.00 (£22.00 on day)
Un-affiliated Runner Entry Fee: £22.00 (£24.00 on day)

AWARDS
Prizes and Trophies for the first three Males and first three Females Trophy for each Female and Male Veteran Category (only one individual prize and trophy per runner) *Commemorative Technical T-shirt for entrants completing the half marathon.
COURSE DESCRIPTION
From Retford Oaks Academy on Babworth Road in Retford, the course touches the edge of Retford before heading north on the old London Road and then sweeping back on rural roads back to the finish at Retford Oaks.
START TIME / FIELD - FUN RUN

Fun Run: Start 10.15am
Field: 200 Max Entrants | Age Limit: 1 | Entry On day: Yes (if race cap not reached)
ENTRY FEES

Adults / children Entry Fee: £3.00 (£3 on the day)

AWARDS
Prizes for first three under 17's and medals for all entrants.
COURSE DESCRIPTION
The Fun Run starts on the main drive inside the grounds of Retford Oaks Academy, and then heads up to the schools large playing fields before looping around the field and then back to the finish on the main drive.

RETFORD WEBSITE
https://www.retfordac.co.uk/
Keep upto date by following our facebook page.
A link to the start list is available at https://www.ukresults.net/2020/retford.html
HEADPHONE POLICY:
** PLEASE NOTE THAT THIS EVENT OPERATES A NO EARPHONES/HEADPHONES POLICY (OF ANY TYPE) - INCLUDING BONE CONDUCTION HEADPHONES **