Pricing & Service
---
---
Organisers can list their events with BookitZone completely free of charge!

It is completely free to use BookitZone's event entry service as an event organiser. BookitZone charges the entrant a small booking fee on top of your entrance fee. All our costs are covered by this booking fee, meaning you receive 100% of your event entrance fee from us! Booking fees start from just £1.25p.
The breakdown...
Our booking fees are charged to the entrant and are inclusive of all credit/debit card processing fees. There are absolutely no other hidden fees or charges of any kind. Your event will receive 100% of your entry fees from us making it completely free for you to use our event listing service.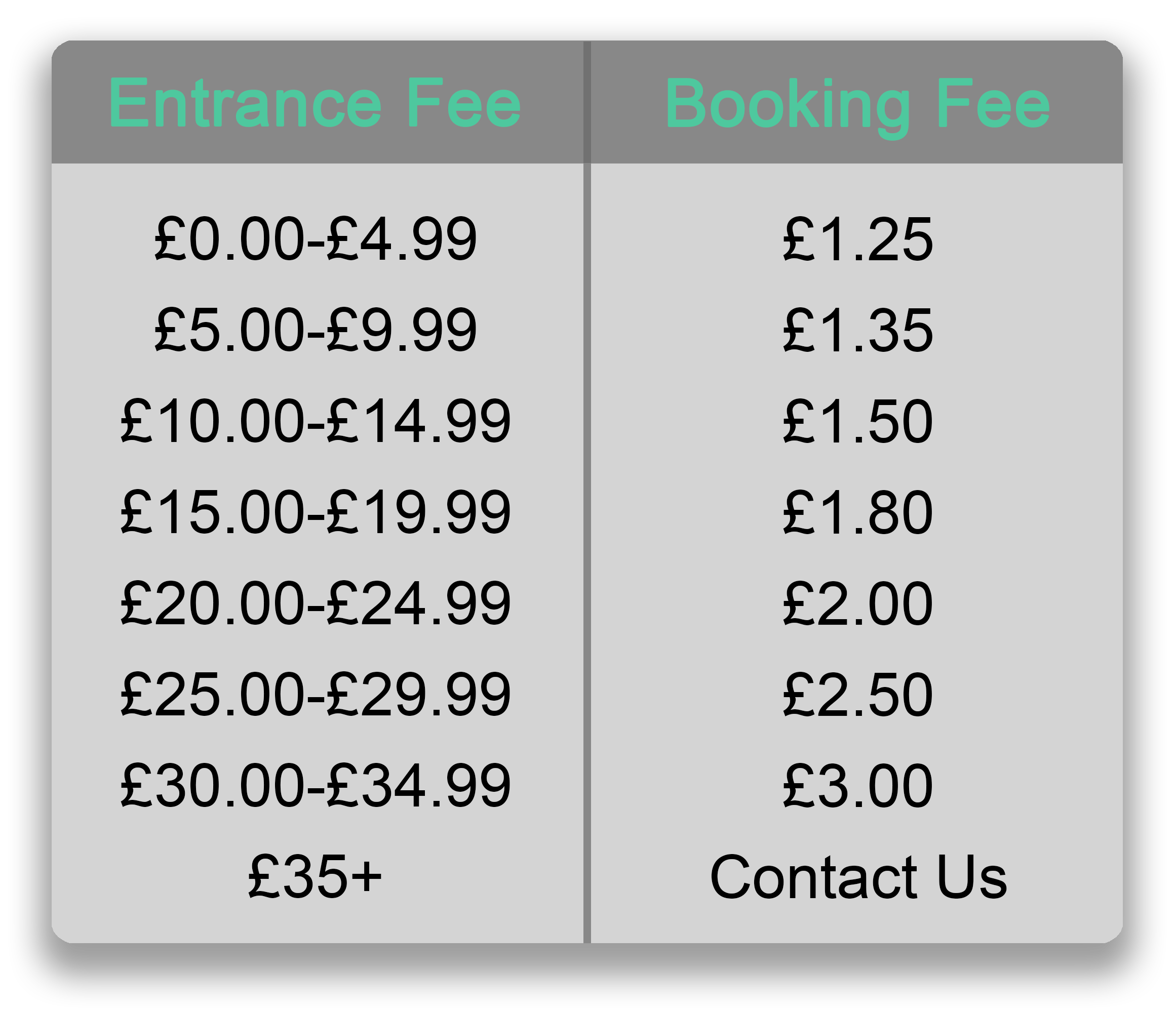 *Booking fees shown are inclusive of all payment processing charges. No other charges of any kind.
We strive to provide excellent value for money for our customers and our pricing structure and continued website improvements are testimony to our commitment to be the best! We also like to be upfront with our pricing and we know that customers don't like unexpected additional charges when they arrive at the checkout page. That's why we incorporate our booking fee into published event prices. The price seen is the price paid, so there are no nasty surprises. We can also 'absorb' the booking fee, presenting the customer with an all-inclusive entry fee should you prefer.
Our booking fees cover the credit/debit card transaction processing charges, website security, design and ongoing development of the website, event marketing and promotion, business insurances, general expenses and salaries.

What do we offer?
BookitZone is an event marketing platform that allows event organisers to list their events for free and puts events within reach of over 200,000 registered athletes on our website. We process your entries and customer payments and capture bespoke entrant information on your behalf. Entrant information is collated and made available for you to securely download in one convenient file ready for the day of your event. The entry data provided is in a fully sortable format ready to provide to your 'on the day' results team.
Event Exposure

Personal Support

Bespoke Experience

Safety & Trust

We are one of the biggest athletic event entry services in the UK.
We have 200,000+ customers registered with BookitZone - looking for an event just like yours.
Your event will be promoted on our social media and in our weekly newsletters which are sent to thousands of athletes - all for free.

We pride ourselves on offering a unique, refreshingly personal service that you won't find anywhere else!
Our friendly team is based in the UK and we're often available outside 9-5 office hours to support you.
If you have any concerns, don't hesitate to contact us.

Our website is loaded with intuitive features such as the ability to customise your sign-up page to ask for exactly the information you need (name, age, Tshirt Size, PB. etc).
We also have tools that allow you to integrate entries that you receive elsewhere - so our service can happily run alongside other online entry services and postal entry services.

We are a family-run business - established in 2009 - and over the past year alone, we've helped with over 600 large and small events across the UK! Take a look at what people say about us on our customer feedback page.
We take data protection seriously and are fully GDPR compliant. We continue to take all the necessary steps to keep your data safe.
If you are considering alternative providers, we encourage you to check that both you and those entering your event will receive a comparable level of service. We'd also appreciate being given the opportunity to compete with any other quotes you have for online entry services.
Contact us now to find out how we can help with your next event.