For events where an entrance fee is charged by the Event Organiser, the BookitZone event entry service will be FREE for Event Organisers to use.
BookitZone charges a small booking fee to the person entering your event meaning that the event will receive its full entry fee from BookitZone.
NEW - Lower customer booking fees...
From June 2016, BookitZone introduced lower booking fees.
Booking fees now start from just £1.20p (incl VAT) and our new lower pricing tier means that booking fees have been generally reduced across the board. Our new rates are being rolled out gradually and apply to all newly listed events from the 1st June 2016.
We strive to provide excellent value for money for our customers and our new pricing structure and continued website improvements are testimony to our commitment to be the best!
*PLUS: Further discounts still apply for multiple bookings:
In addition to a reduction in booking fees across the board, BookitZone continues to provide discounts to customers making multiple entry bookings. Our costs are reduced when multiple bookings are made in the same transaction and we choose to give this back to our customers in the form of a discount rather than pocketing the extra savings ourselves. This is unique to BookitZone and no other entry service provider offers a scheme like this to their customers. Thats one reason why our customers prefer using BookitZone to enter events.
Here's 10 more reasons why you should choose BookitZone as your preferred entry solution...
We have 130,000+ customers registered with BookitZone - looking for an event just like yours.
We have tools that allow you to integrate entries you receive elsewhere - so our service can happily run alongside other online entry services and postal entry services.
Our website is secured by 128bit SSL security to keep your personal details and those of your customers safe and secure.
We are registered with the ICO (Information Commisioners Office) for data usage compliance.
Our website is loaded with intuitive features.
We hold Professional Indemnity and E-Risks business insurance policies.
We complete daily backups to safeguard against data loss - should the worst happen!
We have a very comprehensive set of terms and conditions to help negate any customer disputes.
We pride ourselves by offering a unique refreshingly personal service that you won't find anywhere else!
Its FREE for organisers to use!
Dont just take our word for it - see our customer feedback page.
To find out some of the great features on offer by BookitZone, please see our Hidden Extras page.
If you are considering alternative providers, we encourage you to check that both you and those entering your event will receive a comparible level of service. We'd also appreciate being given the opportunity to compete with any other quotes you have for online entry services.
We're upfront with our pricing...
Customers don't like unexpected additional charges when they arrive at the checkout page. That's why we incorporate our booking fee into published event prices. The price seen is the price paid, so there are no nasty suprises. In fact, multiple bookings made in a single transaction will even attract a discount to the published price!
The more bookings made in a single transaction, the more savings are made. No-one else operates in this way!
Why do you charge a booking fee?
Our booking fees cover the charges imposed on us for processing the credit/debit card transaction, the design and ongoing development of the website, marketing, event promotion, business expenses, salaries and VAT.
What service do you provide?
BookitZone allows our registered users to 'List, Search and Enter Events Online...'
Our fees...
Our booking fees are added to the event entry price and are paid for by the entrant as a service charge*. The event then receives the full event entrance fee from BookitZone making the use of BookitZone free for organisers.
*We can also 'absorb' the booking fee, presenting the customer with an all inclusive entry fee should you prefer.
Booking Fees:
Following a recent upgrade to our payment processing system, our operating costs have reduced. So, from June 2016 we reduced our booking fees. We are still offering the same great personal service - and discounts for multi-booking orders still apply too!
We strive to provide excellent value for money for our customers and our new pricing structure and continued website improvements are testimony to our commitment to be the best!
Our publised booking fees are all inclusive of VAT and all credit/debit card processing fees. NOTHING extra will be charged.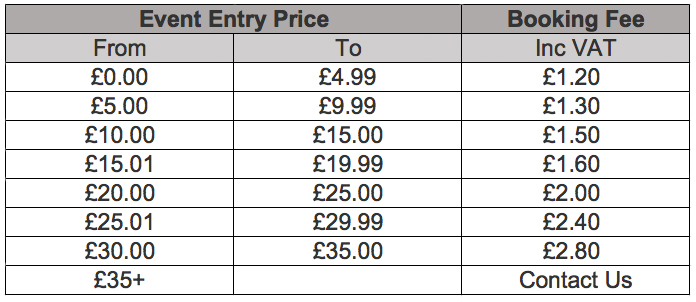 ** A 20p discount is applied to all additional bookings made in the same transaction.

*Introductory booking fee discounts may be available for new events. Contact us for information.
Refund Service for cancelled events...
If an event is cancelled for whatever reason, the entrance money collected by BookitZone and held in a client account on behalf of the organiser, will (subject to agreement) be paid to the event organiser to enable refunds to be issued as necessary.
BookitZone can however provide an electronic mass refund service which will refund* online entrants on behalf of the event organiser saving considerable time and expense. This service is offered at £1.00 per refund issued and includes VAT. Refunds will not include the booking fee paid by the entrant at the time the entry was made.
*NOTE: Due to a restriction imposed on us by our card payment processing company, we regret that we are only able to refund customers that have made a payment to BookitZone within the last 360 days. All refunds over 360 days will need to be processed manually by the event organiser.