Event Description
Andems Runners assisted by Rochdale Harriers present
Andy O'Sullivan's 35 years of races 5k
(ARC Laws. Permit No Applied for)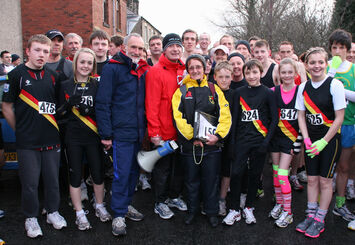 11.30am Sunday 19th August 2018
Venue: Cock & Magpie Pub, Cockhall Lane, Whitworth, Rochdale, OL12 8BJ
It is 35 years this weekend since Andy staged his first ever race! Since then he has organised more than 660 races and all for Charity! This 5K (RRC Measured) takes in two laps of the scenic Cowm Reservoir. Proceeds to Mollie Campbell and Whitworth CRUK & The Young Family.
Read more on this link.
Entry Limit 300.
£2.00 extra on day if limit not reached!
Commemorative Mug to All Finishers!
Enquiries on info@andemsrunners.co.uk. Online Entry on Bookitzone.
The Course will be well marshalled.
Please use 5K as Counter in your Club Championships!
---
Event Terms
- I declare I am an amateur as defined by UK Athletics Laws and will abide by the laws and rules of UK Athletics. I accept that the organiser will not be liable for any loss, damage, action, claim, cost or expenses which may arise in the consequence of my participation in this race. I declare that I will not compete unless I am in good health on the day of the race and that in any event I will compete at my own risk. In the unlikely event of abandonment or cancellation, all or part of my entry fee may be retained for the management and administration of the event.
Further information from the Organiser
You should collect your race pack/number at the venue on the day at the event. Please arrive in good time.
Event Organiser
Name: Andrew O'sullivan
Supporting Document(s):
Seen something offensive? Please report it here.