Event Description
Dewsbury Road Runners present
The Dewsbury 10k Road Race
Sunday 5th February 2017 at 9am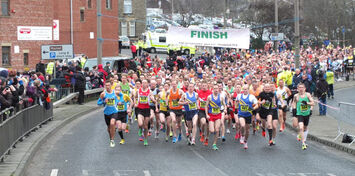 T-shirts given to all finishers of the race
First men's team (3 to score)
First women's team (3 to score)
---
Event Terms
I declare that I am an amateur as defined by UK Athletics laws and will abide by the laws and rules of UK Athletics. I accept that the organisers will not be liable for any loss, damage, action, claim, cost or expenses which may arise as a result of my participation in this race. I declare that I will not compete unless I am in good health on the day of the race and that in any event I will compete at my own risk.
I understand marshals will be withdrawn after 70 minutes. I understand that numbers are NOT TRANSFERABLE and Entry Fees are NOT refundable. I understand that in the event of cancellation or postponement any refund or deferment of entry is entirely at the organisers' discretion.
Under UKA rules the wearing of headphones is now prohibited - anyone found doing so will be disqualified.

Further information from the Organiser
The last date for posting your race pack/number has now passed. You will now collect this at the venue on the day of the event. Please arrive in good time.
Seen something offensive? Please report it here.