Event Description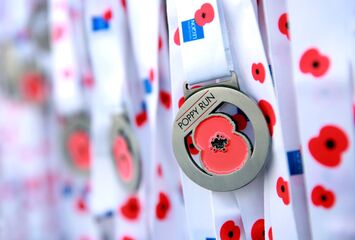 On the 29 April 2019 members of the Royal Air Force's 600 Squadron will be running the Virgin London Marathon to raise money for the Royal British Legion and we want YOU to help us. As we put in the miles so can you and by entering this virtual race every single penny of your entrance fee will go towards the Legion and the work they do.
In addition, why not challenge yourself to raise some money with us, all that we ask is that you link your Just Giving Fundraising page to ours or join our team https://www.justgiving.com/teams/VirtualPoppyRun . If you link your fundraising page to our and raise just £26.20, which is just a pound a mile of our run, we will (at your request) refund you entry.
You can choose to run a Marathon, a metric Marathon (26.2km), a half-marathon or 10KM at your pace, all at once or break it down. All we ask is that you do it within a month of entering. Send your proof from one of many running apps for your phone and we will send you a fantastic finishers medal!
---
Event Terms
Please enter me for the above event. I accept that the organiser will not be liable for any loss, damage, action, claim, cost or expenses which may arise in the consequence of my participation in or attendance to this event. I declare that I will not attend unless I am in good health on the day of the event and accept that I attend at my own risk. In the unlikely event of abandonment or cancellation, all or part of my entry fee may be retained for the management and administration of the event. No refunds or transfers allowed under any circumstances.
Further information from the Organiser
The Event Organiser will email further information prior to the event. Please check your junk/spam email folders if you don't receive it and note that the Organiser may only send information once entries close (ie. a couple of days prior to the event itself). If in any doubt, please contact the Event Organiser using the details displayed on the event entry page.
Seen something offensive? Please report it here.