** Rescheduled - 8th April 2018**
Thirsk and Sowerby Harriers present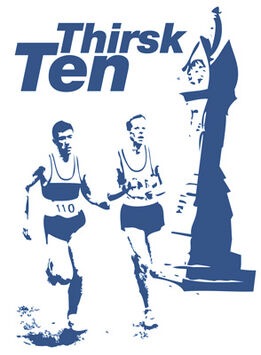 ** 40th Anniversary Year **
The 2018 THIRSK 10
(and Wheelchair Race)
Also
Fun Run – approx 1.5 miles off road
April 8th 2018
Start Times:
Thirsk 10 - 11.00 a.m.
Wheelchair race - 10.50 am
Fun Run - 10am - Not timed
Memento for Fun Run entrants
Chip timing for 10 mile race. Tee Shirt to all 10 mile finishers.
1st prize £200 for male and female winners
Plus extensive prize list throughout the age categories.
Bonus of £100 for beating previous best times – currently - Male 48.45 (Jonathan Taylor, Morpeth H 2015), Female 57.10 (Alyson Dixon Sunderland Strollers 2013)
The 10 mile race is not traffic free
For safety reasons, no ipods etc. allowed. Failure to observe this will lead to disqualification.
ALL ENTRANTS IN 10 MILE RACE MUST BE 17 YEARS OR OVER ON 8th April 2018
Parental or Guardian permission must be given to all runners under the age of 18 on race day.
For safety reasons NO DOGS
The Norman Smith Trophy is awarded to the 1st unattached finisher in the YO7 postcode area.
ALL numbers and chips to be collected on race day.
About the Thirsk 10
The Thirsk 10 has been run for over 30 years and in the early days it was run from Northallerton to Thirsk. However with the passage of time and the increase in road traffic the route had to be changed. For many years the route went through Sowerby and then out into the country, but some years ago the route had to be changed again because of the problems with closing the roads around town and the resulting traffic congestion.
We now have a fast flat course which lends its self to a fast time and gives all abilities a chance of achieving a PB. It is a wheel chair friendly route and such competitors are started 10 minutes ahead of the main field. In recent years the Club has hosted the North of England 10 mile Championship, Yorkshire Veterans Championships and the North Yorkshire Championships.
The finish is at the main grandstand at Thirsk Race Course and the Club appreciates the support give by the Race Course. Cash prizes are awarded in all age categories in 5 years age bands and team prizes.