Event Description
The Stone 5 Mile 2024
21/08/2024 | 7.00pm
Road race near to Stone in Staffordshire
Raising funds for the Lymphoma Cancer Association
TShirt to all runners plus free buffet.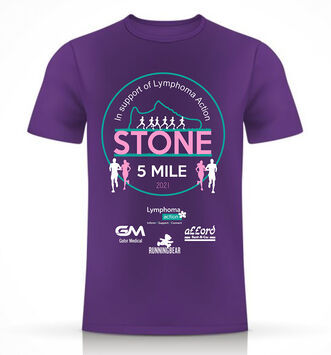 As some of you may or may not be aware that in 2017 I was diagnosed with Lymphoma Cancer.
Thankfully after over six months of treatment and support I was given the all clear.
Throughout the time of my treatment the support I received from the Lymphoma Association was fantastic. If there was ever a question I needed answering or just some reassurance I could just call or go on to the website or the forum and know that help was never far away.

I decided that when I was well enough again I would do something to help these people who have helped me so much.
As many of you know I have organised Road Races for many years and decided to organise a shorter race which anyone could do regardless of ability to raise funds for this worthwhile cause.

I hope you can attend this event; all runners will receive a fantastic medal.
Hopefully we will have a fun night whilst helping a great cause .Please tell your friends and fellow runners and I hope to see many of you at the event.

Mick

Supporting Lymphoma Cancer
​

The race is a Two lap course starting and Finishing at Oulton cricket club the course is undulating but suitable for all standards of runners .
---
This event closes in:
on 19/08/2024 at 09:59am
(*subject to change without warning)
Event Terms
Please enter me for the above event. I accept that the organiser will not be liable for any loss, damage, action, claim, cost or expenses which may arise in the consequence of my participation in or attendance to this event. I declare that I will not attend unless I am in good health on the day of the event and accept that I attend at my own risk. In the unlikely event of abandonment or cancellation, all or part of my entry fee may be retained for the management and administration of the event. No refunds or transfers allowed under any circumstances.
Event Options
**NOTE: Prices shown below include booking fees. Nothing extra will be added at the checkout.**
---
Further information from the Organiser
You should collect your race pack/number/item at the venue on the day of the event. Please arrive in good time.
Stone 5 Mile 2024

Oulton Cricket Club, Old Stone Road, Stone, Staffordshire, ST15 8US

Scan this QR code to open the event location on your smart device. You can then use sat nav on google maps to guide you to the race. Please note that the nearest postcode is used for the event location therefore using sat nav may not exactly guide you door to door.
Seen something offensive? Please report it here.