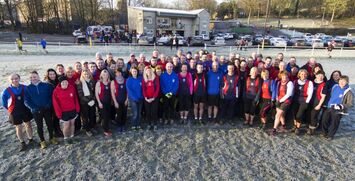 The Stainland Lions Running Club Beginners Course 2018
Online Entry Page
Every year the Stainland Lions Running Club organises a Beginners Course welcoming people of all abilities and experience, encouraging running in fun and friendly groups.
Beginners is an inclusive course, whether you've never run before, already have a level of fitness from the gym or exercise classes or currently run but would like to be part of a running club. Never run? No problem, all are welcome!
Whichever category of runner you fall into, we invite you to come along to the 2018 Beginners Course to improve your fitness, running ability and technique, have fun and make new friends.
During the course we will group together people of similar abilities and gradually increase the distance you run each week, providing support and encouragement along the way.
The majority of the runs will take place on flat(ish) hard tarmac (road running) or along the canals, however as the weeks progress you will be introduced to hillier and off road routes with the opportunity to participate in weekly track training sessions also.
Course details:
Starts Monday 16th April 6pm at Heath Rugby Club, West Vale, HX4 8LS. Please note weeks 2 - 7 start at 6:30pm prompt, week 8 starts at 6pm.
The course WILL run on any Bank Holiday Mondays.
An 8 week course for £12, running with like minded people.
You will be starting the course running 1 to 2 miles with a gradual increase each week, ending the course with running up to 5 or 6 miles a week. It's amazing what you can do in a few short weeks!
Regular opportunities to attend weekly track sessions at Spring Hall on a Wednesday night (additional cost of £2.50 each session).
Includes the chance to experience one of our "Away Runs" from Hebden Bridge on Thursday 7th June - further details will be provided closer to the time.
All group leaders are competent, experienced runners and are England Athletics run leader qualified.
The course is limited to 100 participants.
Minimum entry age is 17.
There will be no entry on the night, you must register for the course via BookItZone. To do so, complete the online form below and follow the payment options.
Course registration closes on Wednesday 11th April.
Enrolling on the course does not make you a member of the club, if you decide to join the club following the Beginners Course, the £12 fee will be deducted from the annual membership fee of £35 leaving just £23 to pay to join.
Once you are a club member all of our club runs range from 5 to 8 miles with a variety of speeds available.