Our 'Virtual Planet Challenge' is designed to help keep the earthlings of the UK motivated and active through these difficult times.
With the recent success of the 'Dragon' Space X mission to the International Space Station, we thought we would 'launch' (ahem!) our latest virtual run with somewhat of an astronomical theme.
Your challenge is to choose a planet and run its circumference – virtually - but, to give you a fighting chance, we have scaled down the actual circumferences by 1/1000th !!!
So, for example, should you choose our 'Mars Mission' you will have a target distance of 21.3km to complete the challenge (as Mars' circumference is actually 21,344km). If you choose our 'Earth Mission' you will have a target of 40.1km as Earths' circumference is 40,075km. And so on.
(NOTE: We've not included The Sun as its' circumference is a meagre 4,379,000 km and we would hope that by the time you had completed 4,379km the UK will actually be out of lockdown and there will be some 'real' races for you to get your teeth into!)
You can walk, run (or crawl!) as long as you complete your chosen challenge distance and submit your evidence before 29th September 2020. The virtual run distances are NOT intended to be completed in a single run (though you can if you like) - but over a number of days - at your own pace and in your own time.
As an added optional challenge, why not see if you can complete your chosen distance within the number of days stated in the table below. The clock starts ticking from your first run.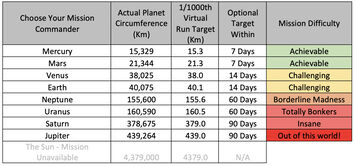 All those that complete the challenge and submit their evidence before 29th September 2020 will receive a BookitZone 'Virtual Run Medal' with corresponding planet design.
Those that complete the challenge within the set number of target days will also receive a BookitZone pen!
Those running one of our largest gas giants (Jupiter or Saturn – wow what a challenge!) will also receive a handy mobile phone screen wipe for their efforts. Out of this world huh??
Complete as long or as short a distance as you like each time you exercise. Take part daily or less regularly depending on your circumstances but all the while observing the current government guidelines in force with regarding social distancing and time restrictions on exercising outside of the home.

Save your exercise routines on your watch, phone or other device using strava/garmin etc, or use 'old skool' pencil and paper - its up to you. You can also use the BookitZone Activity Log Tracker developed specifically for this event (see the FAQ page for a download link below).
Once you have completed your chosen challenge(s), simply email your evidence to virtualrun@bookitzone.com and we'll send you your limited edition planetary medal pack through the post.
By entering this virtual event you are helping to support our small family business. We have seen bookings for physical races decline dramatically and your entry will help support us over the coming weeks and months - so a huge THANK YOU!
So why not voyage into the unknown and boldly go where no man has gone before by taking part in our out of this world virtual challenge. Remember – in space, no one can hear you scream.


Phil & Emma,
BookitZone Ltd.