Event Description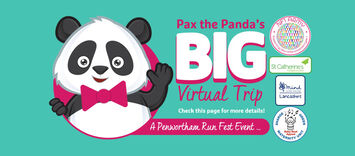 Thanks for joining Penwortham Run Fest's virtual fundraising event. We're here to raise money for some of our wonderful local causes and bring our community together with lots of fun along the way. We support NF1 Army and St Catherine's Hospice and this year we have chosen to also make donations to Lancashire Mind and BabyBeat.
Here's our story:
Penny's beloved Pax has been on a trip to Australia, he went to visit Penwortham in Adelaide which we discovered was founded by John Horrocks of Penwortham Preston!
Pax was at the airport with his suitcase ready to return home to his beloved Penny when his flight was cancelled! Pax has challenged himself to make his own way back home and he will set off on 1st January. However, he can only travel with our help! For every 10K we collectively travel Pax will be able to move 1k on his virtual adventure to return home to his beloved Penny. So, whether you walk, run or cycle simply share with us your distance travelled each day and we will take care of the rest. Pax will share plenty of pictures and postcards of his journey, with your help we're hoping he will be able to stop off at many wonderful sites along the way and we hope to raise lots of money for our wonderful local causes as we go.
Our challenge is to get Pax back home to Penny for her birthday on 11th September so they can be reunited and celebrate together.
We will be keeping Penny company here in Penwortham while she is waiting for her lovely Pax to return to her. We'll share her fun on our social media pages and you will hopefully see her out and about from time to time.
Please send evidence of your completed run to penrunfest@outlook.com.
---
This event closes in:
on 01/09/2021 at 11:59pm
(*subject to change without warning)
Event Terms
Please enter me for this virtual challenge. I accept that the organiser will not be liable for any loss, damage, action, claim, cost or expenses which may arise in the consequence of my participation. I declare that I will not take part unless I am in good health and accept that I do so at my own risk. Once my entry is accepted, I understand that my entry fee is NOT REFUNDABLE under any circumstances - even if I do not or cannot complete the challenge. Throughout the challenge I will observe the current government guidelines in force with regards to social distancing and time restrictions on exercising outside of the home.
Event Options
**NOTE: Prices shown below include booking fees. Nothing extra will be added at the checkout.**
---
Further information from the Organiser
The Event Organiser will email further information prior to the event. Please check your junk/spam email folders if you don't receive it and note that the Organiser may only send information once entries close (ie. a couple of days prior to the event itself). If in any doubt, please contact the Event Organiser using the details displayed on the event entry page.
Seen something offensive? Please report it here.