This is the TEAM ENTRY PAGE. Individual entries are available via separate entry page.
Event Description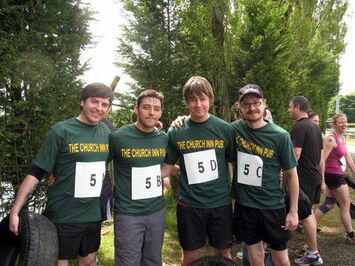 THIS IS THE ORIGINAL PRESTWICH CHALLENGE: THE ULTIMATE OFF-ROAD RACE
4 Person Team Entry Page
Test your endurance to the limit over 8 miles of natural and man-made obstacles through Prestwich Clough and Prestwich Forest Park
The race starts from Sedgley Park RUFC, Park Lane, Whitefield, Manchester M45 7DZ
Start time - 12 noon
Entries accepted for individuals or teams of 4.
(Individual entry available on this link.)
Runners must be 16+ on race day
Prizes for top individuals and teams
---
Event Terms
Please enter me for the above event. I accept that the organiser will not be liable for any loss, damage, action, claim, cost or expenses which may arise in the consequence of my participation in or attendance to this event. I declare that I will not attend unless I am in good health on the day of the event and accept that I attend at my own risk. In the unlikely event of abandonment or cancellation, all or part of my entry fee may be retained for the management and administration of the event. No refunds or transfers allowed under any circumstances.

The Prestwich Challenge is an event which is oversubscribed each year and which relies on volunteers to manage the course. In order to effectively manage the event all participants must be capable of completing the full distance, start line to finish line, within the event time requirement of 4 hours 15 minutes.

If participants have not completed the first 4.5 miles within 3 hours they will be eliminated from the event and guided back to the finish area. By completing your entry you will be accepting this condition of the event.
Further information from the Organiser
You should collect your race pack/number at the venue on the day at the event. Please arrive in good time.
The 2015 Prestwich Challenge - 4 Person Team Entry

Sedgley Park RUFC, Park Lane, Whitefield, Greater Manchester, M45 7DZ

Scan this QR code to open the event location on your smart device. You can then use sat nav on google maps to guide you to the race. Please note that the nearest postcode is used for the event location therefore using sat nav may not exactly guide you door to door.
Seen something offensive? Please report it here.